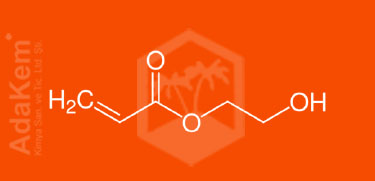 IUPAC NAME
tributyl 2-acetyloxypropane-1,2,3-tricarboxylate
CHEMICAL FORMULA
C20H34O8
CONCENTRATION
≥ 98.0
MOLECULAR WEIGHT
402.5 g/mol
CAS No
77-90-7
PACKING
PRODUCT DESCRIPTION
Acetyl Tributyl Citrate is primarily based on natural citric acid obtained from the fermentation of corn. Ester derivatives have a long history of use in various applications such as food and beverages, sweeteners, medical, and pharmaceutical.
PROPERTIES
Phthalate-free
Enhanced flexibility
Biodegradability
APPLIATION AREAS
Plasticizers
PVC additives
Biopolymer additives
It is utilized in the wire and cable industry.
IT IS APPLIED IN THE PRODUCTION OF
Polymer and Plastic Production
Food Packaging
Medical Devices
Cosmetics and Personal Care Products
Children's Toys
Pharmaceuticals
Adhesives and Sealants
Inks and Printing
Appearance Clear, colorless
Physical State Liquid
Density 1.048 g/cm3 at 25 °C
Boiling Point 327 °C
Freezing Point –59°C
Flash Point 204 °C
77-90-7 ACETYL TRIBUTYL CITRATE tributyl 2-acetoxypropane-1,2,3-tricarboxylate Acetyltributyl citrate Tributyl acetylcitrate Tributyl O-acetylcitrate Citroflex A Blo-trol Citroflex A 4 2-Acetyltributylcitrate Tributyl citrate acetate ATBC 1,2,3-Propanetricarboxylic acid, 2-(acetyloxy)-, tributyl ester Tributyl acetyl citrate FEMA No. 3080 Acetylcitric acid, tributyl ester Tributyl acetylicitrate Citric acid, tributyl ester, acetate Caswell No. 005AB o-Acetylcitric acid tributyl ester NSC 3894 Uniplex 84 Tributyl 2-acetoxy-1,2,3-propanetricarboxylate Acetyl butyl citrate tributyl 2-acetyloxypropane-1,2,3-tricarboxylate CCRIS 3409 HSDB 656 Tributyl 2-(acetyloxy)-1,2,3-propanetricarboxylate 2-Acetoxy-1,2,3-propanetricarboxylic acid tributyl ester NSC-3894 EINECS 201-067-0 Acetyl tri-n-butyl citrate UNII-0ZBX0N59RZ Acetyltributyl citrate [NF] BRN 2303316 0ZBX0N59RZ AI3-01999 DTXSID2026446 C20H34O8 1,2,3-Propanetricarboxylic acid, 2-(acetyloxy)-, 1,2,3-tributyl ester EC 201-067-0 DTXCID006446 Tributyl 2-(acetyloxy)-1,2,3-propanetricarboxylic acid 1,2,3-Propanetricarboxylic acid, 2-acetoxy-, tributyl ester 2-(Acetyloxy)-1,2,3-propanetricarboxylic acid, tributyl ester MFCD00043554 CAS-77-90-7 Estaflex Estaflex ATC Pfizer citroflex A-4 Tributyl-O-acetylcitrat tributyl-o-acetyl citrate Acetylcitric acid tributyl Tributyl O- acetylcitrate tributyl O – acetylcitrate SCHEMBL23183 Tributyl O-acetylcitrate, 98% CHEMBL1904556 Acetyl Tributyl Citrate (ATBC) FEMA 3080 NSC3894 CHEBI:168067 Citric acid, acetyl tributyl ester ACETYLTRIBUTYL CITRATE [II] Tox21_112777 Tox21_201779 Tox21_303128 ACETYLTRIBUTYL CITRATE [HSDB] TRIBUTYL ACETYLCITRATE [FHFI] ACETYL TRIBUTYL CITRATE [INCI] AKOS015895884 TRIBUTYL ACETYLCITRATE [MART.] ACETYLTRIBUTYL CITRATE [USP-RS] CS-W011697 LS-3129 Tributyl 2-acetylcitrate, >=98%, FG NCGC00164157-01 NCGC00164157-02 NCGC00257221-01 NCGC00259328-01 BS-18149 NCI60_003698 CITRIC ACID, O-ACETYLTRIBUTYL ESTER A0822 Citric acid, tributyl ester, acetate (8CI) FT-0621820 Tributyl 2-acetoxy-1,3-propanetricarboxylate TRIBUTYL ACETYLCITRATE [EP MONOGRAPH] D70155 Tributyl 2-acetoxy-1,2, 3-propanetricarboxylate A839285 SR-01000883988 Q4673294 SR-01000883988-1 Tributyl 2-(acetyloxy)-1,3-propanetricarboxylic acid 2-Acetoxy-1,3-propanetricarboxylic acid tributyl ester Tributyl 2-(acetyloxy)-1,2, 3-propanetricarboxylic acid 1,2,3-tributyl 2-(acetyloxy)propane-1,2,3-tricarboxylate 2-Acetoxy-1,2, 3-propanetricarboxylic acid tributyl ester 1,3-Propanetricarboxylic acid, 2-(acetyloxy)-, tributyl ester 2-(Acetyloxy)-1,2,3-propane tricarboxylic acid, tributyl ester Acetyltributyl citrate, United States Pharmacopeia (USP) Reference Standard Tributyl acetylcitrate, European Pharmacopoeia (EP) Reference Standard Tributyl 2-acetylcitrate, Pharmaceutical Secondary Standard; Certified Reference Material