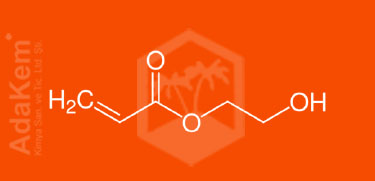 IUPAC NAME
n-Butyl acrylate
CHEMICAL FORMULA
C7H12O2
CONCENTRATION
min. 99.5%
MOLECULAR WEIGHT
128.2 g/mol
CAS No
141-32-2
PACKING
PRODUCT DESCRIPTION
Butyl Acrylate (BA) is an ester of Acrylic acid and is used as a raw material in the synthesis of polymers. Butyl Acrylate (BA) is a monofunctional monomer with a characteristic high reactivity, containing both a methacrylate group and a cyclic hydrophobic group. Copolymers of Butyl Acrylate (BA) can be prepared with (meth)acrylic acid and its salts, amides, esters, methacrylates, acrylonitrile, maleic acid esters, vinyl acetate, vinyl chloride, vinylidene chloride, styrene, butadiene, unsaturated polyesters, drying oils, and others.
PROPERTIES
Butyl Acrylate (BA) is used in organic glass production and also serves as a comonomer in the synthesis of acrylic dispersions. These dispersions are used in impregnation compositions in various industries, including adhesives, binders, leather, printing, paints, varnishes, cellulose, and paper.
APPLIATION AREAS
Hydrophobicity
Adhesiveness
Water resistance
Low-temperature performance
Durability and strength
Flexibility
Viscosity
Weather resistance
IT IS APPLIED IN THE PRODUCTION OF
Acrylic and water-based dispersions
Water-based industrial and architectural paints
Industrial and architectural coatings
Varnishes
Textiles
Cellulose and paper
Paper and leather coatings
Wood and metal coatings
Adhesives
Inks, fillers, and sealing materials.
Purity min. 99.5%
Acid Content max. 0.01%
Water Content max. 0.05%
Color (APHA) max. 10
Inhibitor 15±5 ppm MEHQ
Appearance Clear, colorless
Physical State Liquid
Odor Pungent
Density 0.898 g/cm3 at 20 °C
Boiling Point 148 °C
Freezing Point – 64 °C
Flash Point 29 °C
Viscosity 0.92 mPa · s at 20 °C
Vapor Pressure 5.4 mbar at 20 °C
BUTYL ACRYLATE n-Butyl acrylate 141-32-2 butyl prop-2-enoate 2-Propenoic acid, butyl ester n-Butyl propenoate Acrylic acid butyl ester Butyl 2-propenoate butylacrylate Acrylic acid, butyl ester Acrylic acid n-butyl ester Butylester kyseliny akrylove 2-propenoic acid butyl ester Butyl acrylate resin Butyl acrylate, n- CCRIS 3401 HSDB 305 n-butylacrylate 9003-49-0 NSC 5163 EINECS 205-480-7 UNII-705NM8U35V BRN 1749970 CHEBI:3245 DTXSID6024676 AI3-15739 705NM8U35V NSC-5163 Butylester kyseliny akrylove [Czech] UN2348 Acrylic acid, n-butyl ester DTXCID104676 EC 205-480-7 4-02-00-01463 (Beilstein Handbook Reference) N-BUTYL ACRYLATE (IARC) N-BUTYL ACRYLATE [IARC] CAS-141-32-2 n-butylacrylat n-butyl acrylat Butyl propenoate n-butyl-acrylate Acrylate de butyle Acrylic acid butyl Acrylsaeurebutylester normal butyl acrylate Acrilato de n-butilo n-Butyl-2-propenoate Butyl acrylate (n-) BTC (CHRIS Code) Butylacrylate, inhibited Propensaure-n-butylester Acrylic acid-butyl ester BUTYL 2-PROPENATE Butyl acrylates, inhibited BUTYL-2-PROPENOATE Butyl ester of acrylic acid SCHEMBL15037 N-BUTYL 2-PROPENOATE n-Butyl acrylate, AR,99% n-Butyl acrylate, CP,98% BIDD:ER0366 BUTYL ACRYLATE [HSDB] BUTYL ACRYLATE [INCI] WLN: 4OV1U1 N-BUTYL ACRYLATE [MI] 2-propenoic acid n-butyl ester CHEMBL1546388 BUTYL ACRYLATE, STABILIZED NSC5163 BUTYL ACRYLATES, STABILIZED Butyl acrylate, analytical standard Tox21_201387 Tox21_303296 LS-827 MFCD00009446 NA2348 STL280321 Butyl Acrylate, stabilized with MEHQ AKOS000120041 Butyl Acrylate (stabilized with MEHQ) UN 2348 NCGC00091107-01 NCGC00091107-02 NCGC00256946-01 NCGC00258938-01 BP-20380 Butyl acrylate, purum, >=99.0% (GC) A0142 FT-0621881 Butyl acrylate, SAJ first grade, >=99.0% EN300-19865 A807751 A845377 Q343005 J-007481 J-519959 Butyl acrylates, inhibited [UN2348] [Flammable liquid] Butyl acrylates, inhibited [UN2348] [Flammable liquid] Butyl acrylate, >=99%, contains 10-60 ppm monomethyl ether hydroquinone as inhibitör Kowa AIB SM611 Sacryl SP1 NAM- HOBA Avicor® 381 EMULTEX AC430 Discontinued Deocoat® 4000 Acronal® 700 L AIB Avicor® 385 KC701B Nanostrength® M51 Nanostrength® M52 Polyfam® 707 Avicor® 384 Nanostrength® M53 Luhydran® N 850 S Norsocryl® BA PROCRYL PA 500 Nanostrength® M52N Acronal® 567 D-For Europe only Acronal® LR 8977 PROKIL S 350 P PROKIL S 350 PV DEXICRYL 036B PROKIL S 380 F Acronal® PRO 761 PROKIL S 380 F-V Avicor® 325 ACTFLOW® NE-1000 NeoCryl® B-831 AHA 7001 n-Butanol(n-BA) AquaCril VA GP 3211 GP 3212 PROKIL S 330 AF PROKIL S 330 P PROKIL S 330 PS PROKIL S 346 P Ecomer®