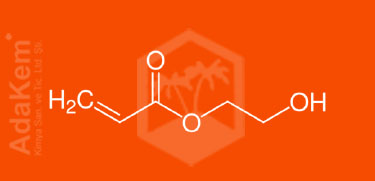 IUPAC NAME
2-hydroxypropyl-2-methylprop-2-enoate
CHEMICAL FORMULA
C7H12O3
CONCENTRATION
min. 97.0%
MOLECULAR WEIGHT
144.17 g/mol
CAS No
27813-02-1
PACKING
PRODUCT DESCRIPTION
2-Hydroxypropyl Methacrylate (2-HPMA) is an ester of Methacrylic Acid and is used as a raw material in polymer synthesis. 2-Hydroxypropyl Methacrylate (2-HPMA) is a functional hydrophobic-hydroxy monomer, consisting of a cyclic hydrophobic group with characteristic high reactivity of methacrylate. It can form both homopolymers and copolymers. Copolymers of 2-Hydroxypropyl Methacrylate (2-HPMA) can be prepared with (meth)acrylic acid and its salts, amides, and esters, as well as with (meth)acrylates, acrylonitrile, maleic acid esters, vinyl acetate, vinyl chloride, vinylidene chloride, styrene, butadiene, and other monomers.
PROPERTIES
Chemical resistance
Hydrolytic stability
Hydrophobicity
Flexibility
Adhesion
Shock resistance
Weather resistance
APPLIATION AREAS
2-Hydroxypropyl Methacrylate (2-HPMA) is used in the preparation of solid and emulsion polymers, acrylic dispersions in conjunction with other (meth)acrylates, and finds applications in various industries, particularly in textile coatings and garments. Additionally, it is used:
As a comonomer in the production of acrylic rollers for automotive components, maintenance coatings, and industrial coatings,
As a comonomer in styrene-based unsaturated polyesters, PMMA-based acrylic resins, and vinyl ester formulations for chemical anchors and chemical fasteners,
As a hydrophobic hydroxy monomer in vacuum impregnation adhesives for cast aluminum components.
IT IS APPLIED IN THE PRODUCTION OF
Automotive coatings
Architectural coatings
Industrial coatings
Plastics
Hygiene products
Adhesives and sealants
Textile finishes
Modifications
Photosensitive materials
Additives for oil production and transportation.
Purity min. 97.0%
Acid Content max. 0.2%
Water Content max. 0.15%
Color (APHA) max. 30
Inhibitor 200±20 ppm MEHQ
Appearance Clear, colorless
Physical State Liquid
Odor Light acrylic odor
Density 1,029 g/cm3 at 20°C
Boiling Point 87 °C
Freezing Point -58°C
Flash Point 104°C
Viscosity 8.9 mPa · s at 20°C
Vapor Pressure 0.05 mm Hg at 20°C
2-Hydroxypropyl methacrylate 27813-02-1 923-26-2 2-Hydroxypropylmethacrylate HPMA Acryester HP beta-Hydroxypropyl methacrylate 2-Hydroxypropyl 2-methylacrylate 2-hydroxypropyl 2-methylprop-2-enoate 25703-79-1 2-Hydroxypropyl 2-methyl-2-propenoate 2-Propenoic acid, 2-methyl-, 2-hydroxypropyl ester Propylene glycol monomethacrylate 2-HPMA METHACRYLIC ACID, 2-HYDROXYPROPYL ESTER CHEBI:53440 2HPMA EINECS 213-090-3 methacrylic acid 2-hydroxypropyl ester BRN 1752228 UNII-V9B8S034AW V9B8S034AW 2-hydroxy-n-propyl methacrylate 2-hydroxy-3-propyl methacrylate DTXSID1029629 .beta.-hydroxypropyl methacrylate DSSTox_CID_5934 (C7-H12-O3)x- 9086-85-5 BLEMMER P 2-hydroxyproyl methacrylate Epitope ID:131322 DSSTox_RID_77971 DSSTox_RID_78619 DSSTox_GSID_25934 DSSTox_GSID_27936 SCHEMBL19017 DTXCID805934 CHEMBL1873783 Methacrylic acid 2-hydroxypropyl 1,2-Propanediol, 1-methacrylate 2-Hydroxypropyl 2-methylacrylate # CBA81302 Tox21_200694 Tox21_201232 Tox21_202531 AKOS015899917 CS-W011008 LS-1083 HYDROXYPROPYL METHACRYLATE [INCI] NCGC00090806-01 NCGC00090806-02 NCGC00090806-03 NCGC00258248-01 NCGC00258784-01 NCGC00260080-01 AS-59279 CAS-923-26-2 LS-89931 CAS-25703-79-1 CAS-27813-02-1 FT-0694519 M0512 D93082 2-Propenoic acid,2-methyl-,2-hydroxypropyl ester W-100292 Q27124054 Photomer® 2317